Yu-Gi-Oh! GX is now a well known show. And to top it off we got character bios.
About 10 years in the future, in a land inaccessible to the rest of the world, is the premiere dueling high school Duel Academy! This special boarding school educates promising young duelists to achieve their full potential. However, little do people realize that one of the greatest duelists of all time is about to arrive in the incoming class...
The students, based on a combination of duelist rankings and exams, are separated into three dorms. The most advanced students reside in Obelisk Blue. The second tier lives in Ra Yellow. The duelists with the lowest grades are in Slifer Red. Class conflicts have stood for many years with the higher-ranked dorms teasing the lower dorms, but the status quo is about to turn on its head with the newest arrival! The main character,Jaden Yuki.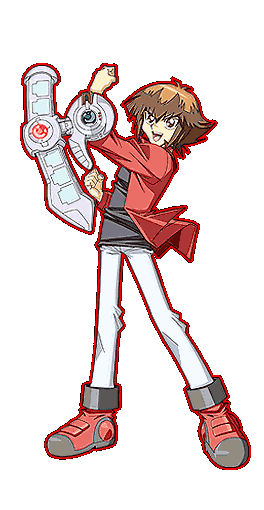 English Name: Jaden Yuki
Japanese Name: Yuki Judai
Dorm: Slifer Red
Deck: Elemental Hero
Jaden lives in the lowest-ranked Slifer Red dormitory because he gets bad grades, but he's out to prove that test scores aren't everything! His superior Dueling skills and incredible instinct are unlike anything the teachers have seen before, and he's ready to rock Duel Academy to its foundation!
English Name: Alexis Rhodes
Japanese Name: Asuka Tenjyoin
Dormitory: Obelisk Blue
Deck Type: Female Character Deck
Alexis's Dueling talent equals her beauty, and they're both top-notch! Though widely regarded as the queen of Obelisk Blue, Alexis doesn't let that title go to her head. Unlike the other high-ranking Obelisk Blue students, Alexis doesn't follow the crowd and thinks that she's better than anyone else, which may explain her interest in the independent and tough Jaden. Though loved by everyone, she harbors deep sadness within because her brother has mysteriously disappeared.
English Name: Bastion Misawa
Japanese Name: Misawa Daichi
Dormitory: Ra Yellow
Deck Type: Six Attribute Deck
Bastion's smart and calculated Dueling style earned him the highest grades in the freshmen applicant class! He can analyze his opponent's weaknesses and exploit them to his advantage because he studies constantly to learn what to do in any situation.
English Name: Syrus Truesdale
Japanese Name: Sho Marufuji
Dormitory: Slifer Red
Deck Type: Vehicroid Deck
Jaden's roommate Syrus does something even Jaden can't do - he gets lower grades than Jaden! Though he's a decent Duelist, he doesn't believe in himself, so he often makes mistakes in the most crucial situations. It can't help that Syrus's older brother is Zane, the best student in the school. How can he live up to his brother's perfect standards? Maybe with Jaden's help, Syrus will trust himself and climb out of the cellar to show the world what a true Duelist he is!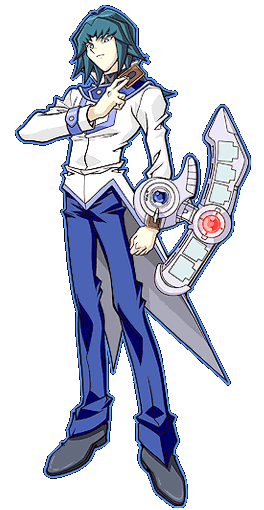 English Name: Zane Truesdale
1st Japanese Name: Ryo Marufuji
2nd Japanese Name: Kaiser Ryo
Dormitory: Obelisk Blue
Deck Type: Cyber Dragon Deck
Even in a school packed with Dueling prodigies, Obelisk Blue's Zane stands atop the mountain as the king of the Duel Academy. No other student has eveer defeated this superstar Duelist! Though his younger brother Syrus is in the incoming class, he doesn't waste his time thinking about him - why bother Dueling with a younger brother who can't Duel?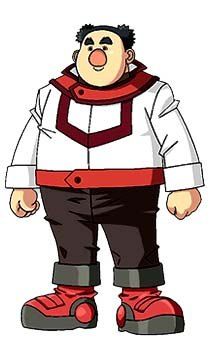 English Name: Chumley Huffington
Japanese Name: Hayato Medea
Dormitory: Slifer Red
Deck Type: OZ Deck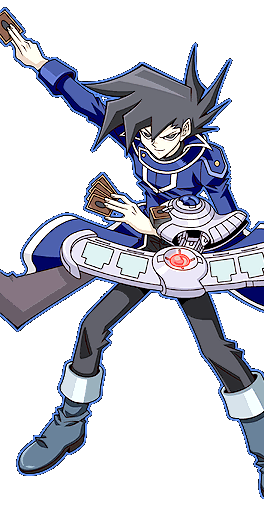 English Name: Chazz Princeton
Japanese Name: Manjyome Jun
Dormitory: Obelisk Blue
Deck Type: Ojama/V to Z/Chthonian Deck
Chazz is a clever and highly sought-after freshman who was immediately placed into the highest-ranked Obelisk Blue dormitory. He believes that Dueling is for the elite - not for the rabble-rousing, low-scoring, untalented masses! Anyone getting low grades should be kicked out of school, especially that loser Jaden!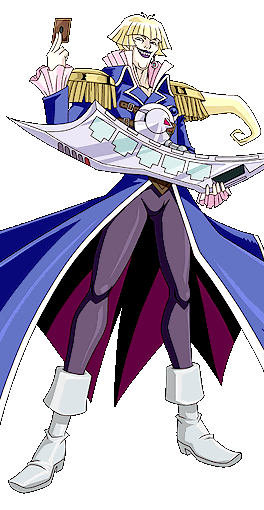 English Name: Dr. Vellian Crowler
Japanese Name: Chronos De Mediz
Dormitory: Obelisk Blue
Deck Type: Ancient Machine Deck
Dr. Crowler teaches basic duel training at Duel Academy, but don't expect him to nurture you if you're struggling in your studies. If you can't keep up with his lessons, he wants you expelled! He believes dueling is for the top students who get excellent grades, so he secretly tries to push the weaker students to drop out of school. Nothing would make him happier than seeing Jaden expelled!